"You'll be stunned at how EASY painting Realistic Flames can be..."
With Just One Special Stencil… A Few Short Hours…
and with NO "Art" Experience At All…
You'll Discover The Simple and Inexpensive Secrets
To Easily Creating Mind-Blowing
REALISTIC FLAMES — Guaranteed!
This NEW Quick-Learn Program Will Have You Painting The
Most Sought-After… High-Dollar… And Astonishing Realistic Flames Practically OVERNIGHT!
And The Unique "Flame Creator" Stencil
(For Making It All Fast & Easy)… Is Yours FREE!
By Jimbo Curley
Prez, BAA Direct, Inc.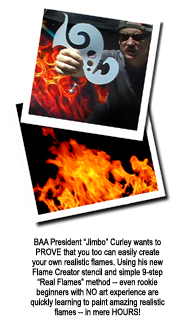 Dear Fellow Custom Ride Nut:
Let's talk about a "dirty little secret" that I've hung onto for awhile now.
It's a simple step-by-step method for custom painting realistic flames. I'm talking about the wildly popular paint-job that looks just like actual fire. I call it "Real Flames" and this is one "hot" special effect that wins shows… draws crowds of gawkers… and earns instant respect.
I've made some BIG money from this secret. But… well… it's time for me to spill the beans on the simple 9-step process behind "Real Flames". In fact… give me just a few hours and I guarantee that my "Real Flames" instructional package can teach ANYONE how to paint the most stunning and realistic flames and…
It Doesn't Matter If You
Can't Draw A Straight Line!
"Real Flames" is perfect for the guy who's more mechanic than "artistic" -- because there's NO art involved! Just a special stencil and an easy-to-learn 9-step procedure that anyone who can wrench a bolt can follow. It's designed to be inexpensive... simple... and easy — all explained step-by-step without any "artistic fluff". Watch it just once and you'll have the confidence to start painting realistic flames the next day. It's that powerful.
Okay… "Real Flames" is not paint-by-numbers — but it's damn close. Even rookie beginners with NO "art" or painting experience at all are following this simple Real Flames "blueprint" to create wild realistic fire effects. You'll be astonished at how such a mechanical process can lead to such a natural-looking realistic design.
It's finally your chance to discover how good it feels to do your own Real Flames graphics — especially when it's this easy. The money… the pats on the back… the respect… oh yea… and let's not forget the swooning girls.
Don't believe it? Well no problem because I'm willing to let you…
See This Simple "Real Flames" System
For FREE If You Choose!
That's right! Because I want to PROVE to you that you can do this — right in your own driveway if you want. I'll even GIVE you the stencil you'll need — FREE. You'll need this special stencil to pull-off Real Flames -- but more about that in a minute.
Here's what's going on: I've been into custom painting and graphics for many years — 27 years to be exact. There was nothing in my genes that put me at the top of the custom graphics heap. I wasn't "born" with some natural ability to paint graphics. Though a lot of "artists" would like you to believe that — it's just not true.
Nope. I had to hang out in paint shops with tattooed guys resembling ZZ-Top… inhaled enough overspray to hover a few inches off the ground… and nearly pulled teeth to get an ounce of useful information. But eventually the school of "hard-knocks" paid off — and my graphics work became some of best and most respected in the world.
I've Done The Work… Won The Awards…
And Made The Money.
Now it's your turn -- minus all the work of trying to "figure this out".
I've produced this "Real Flames" instructional package, (and many others), so that NOBODY has to go through what I did just to learn some simple custom painting secrets.
My little company has some of the hottest-selling custom-paint and special-effects instructional packages on the planet… gained worldwide respect from today's best-known paint and graphics "insiders"… and pissed off plenty of industry "fat-cats" who don't want their precious secrets revealed (they're currently hauling in $3,500 to $13,000 for a few days of "Real Flames" painting). Oh well… too bad for them. The secret's out.
Now these secrets can be yours! This easy-to-learn 3-1/2 hour "Real Flames" package is everything you'll ever need to create realistic flames.
Here's just a taste of what you're about to discover:
The THREE different styles of realistic flames — including a very hot "Jet Blast" effect, (perfect for shooting flames from intake vents… scoops… even dragon graphics)… the "Back Licking" flames for a more tribal realistic flame… and the "Free Flowing Windswept" flames for maximum realism with minimum effort. Three choices to give you MORE in your arsenal of real fire effects.
Exactly how to use your stencil to create "main flames"… tricks to "branching" the flames… finishing and smoothing secrets… and a lot more stencil tips. Have your Flame Creator stencil do the work for you -- and look like a graphics genius in the process.
How to easily "erase" any mistake at any stage of your job. This "ace in the hole" trick is one more reason even beginners have NOTHING to worry about.
A super simple "white-base colorizing" method (use this one for speed)… and the more advanced (and more stunning) "multi-layering" method. Work fast or create maximum "depth" — the choice is yours.
A very cool (and very easy) "ribboning" technique to establishing twisting runners of flames. In less than 5 minutes you'll be using your stencil to create one wild flame effect. You simply won't believe how easy this is and how professional the results.
Three easy "confidence building" techniques that will quickly have you painting like a pro graphic artist — no matter what your current skill level!
What basecoat color is the absolute best to start with and why you want to avoid certain brands. This one tip will give you the foundation to make your flames "pop" off the surface.
The one secret to making it all "fool-proof" — no matter what goes wrong. Knowing this one trick means you'll work fast and without worry on ANY surface.
Exactly which airbrush and spray guns are required. You'll be surprised that the most expensive is NOT always the way to go. You'll keep the expenses down and the quality up.
Simple and easy to follow "double-action" airbrush secrets to smooth flowing graphics with NO paint spitting. These tips will keep your airbrushing flawless -- and it doesn't matter if you've ever touched an in your life!
The easiest way to keeping dust and lint off your paint job. It'll cost you less than $10 — but keep your job looking like a million bucks — even if you paint this at home in your driveway! Low cost job with high-dollar results.
The 1000-grit sand secret that will "level" your paint surface and allow your flames to "bite". This one trick will make your artwork 100% permanent and professional.
Tips to building and fading candies to achieve a multi-layered effect quickly and without problems. Pro-level 3D fire effects instantly!
How to achieve the critical "color progression" of flames from hot to cool. Knowing this one secret will allow you to create "breakaway" flames and add a level of realism that will stun and amaze onlookers.
Easy trick with huge results.
And more… a LOT more. The 3 "perfect prep" secrets to achieving a flawless foundation for your flames… airbrush "trigger control" tricks to make you a hot-shot expert fast… simple ways to establishing "cool" spots in the flame… the biggest rookie mistake when it comes to branching off flames… the 3 secrets to working on a large surfaces… And a ton more. Way too much to cover here.
You'll even receive the one critical tool you'll need to get these flames to look "real" — the Flame Creator Stencil. It's super easy to use and I've personally designed it to make realistic fire painting go quickly and smoothly. It's worth $39 -- but you won't find it anywhere else… at any price. And like I said -- you simply can't do Real Flames without it.
It's yours to keep FREE — a gift for trusting me on this one. However…
There Is One "Catch"
This "Flame Creator" stencil wasn't easy to make. It's laser-cut 10-mil solvent-proof mylar and cost me dearly — which means I have a limited supply of just 177 stencils. I doubt very much that there will EVER be any more produced.
If you're reading this it means there's still plenty of stencils to go around right now — but only if you act NOW. If you wait, you'll miss out.
So here's what you need to do immediately: Click on buy button below now:
You'll be taken to a completely safe and encrypted shopping cart. The special purchase price for this package is just $97 (plus $7 S&H) — an absolute bargain considering that you can use this to earn thousands next week. Use your credit card.
Or if you'd rather talk to a live person, call my office right away and tell them you're interested in receiving the "Real Flames" instructional package and your FREE Flames Creator stencil. That toll-free number is:
1-888-665-6961
Department JC-77
Operators are standing by 24-hours a day, 7 days a week so there's no wrong time to phone.
Or, if you'd rather pay by check or money order, (payable to BAA), just mail your payment ($97 + $7 S&H = $104 total) to: BAA Direct - Dept. JC-77, 606 E. Acequia Ave., Visalia, CA 93292.
No matter how you order, you'll be rushed a BIG package — 2 DVDs... 3 ½ hours of solid custom painting instruction... plus your FREE "Flames Creator" stencil. Believe me, if you've dreamed of creating stunning realistic flames, you'll be like a kid in candy store when you get your package.
But the best part about this deal is that…
It's All 100%
RISK FREE To You!
That's right — all the risk is on MY shoulders. If you're not completely thrilled with this package for ANY reason… even NO reason… just send it back and I'll make sure you're refunded EVERY PENNY of your purchase price. No questions asked and no hassles either. In fact, I'm so confident you'll LOVE this that I'm even willing to give you…
One Full YEAR
To Make Up Your Mind
Take your time. Learn it. Then use it to make some money… win some shows… or just impress the pants off some girls. The choice is yours. This gives you a year-long chance to check it all out for FREE if you choose. I completely trust your judgment.
But no matter what you later decide, I want you to keep the Flame Creator stencil just for giving "Real Flames" a chance. This durable stencil will last you a lifetime and it's a generous gift from me to you.
It's no wonder why my little company has built such a loyal following. We've got a reputation for backing up our word AND treating customers like gold. I wouldn't have it any other way.
But please, do this now! Word about this amazing deal is already out and I'm getting flooded with calls from people trying to get their hands on this package and the free stencil.
So even if you're just curious, do yourself a favor and act NOW, while you're still reading this. There's nothing to lose. So order online right now (the fastest and easiest way to get all this) or call 1-888-665-6961 right away.
Sincerely,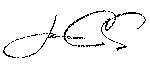 Jimbo
Prez, BAA Direct, Inc.
P.S. You'll be stunned and delighted when you discover how easy realistic flame painting can be. You can learn it all RISK FREE in mere hours and finally have the chops to start earning the respect and kudos of the best painters on the planet!
But hurry, there's only 177 of the FREE Flame Creator stencils to go around. I've got plenty right now (I'll pull down this page when they're gone) but when they're gone, that's it.
Listen to what guys who KNOW are saying about
"Real Flames" and BAA Direct:
"I have a '63 Cadillac Hearse that we have been debating if we want to do realistic flames on. I have been looking at many instructional videos over the last few years and yours are by far the most helpful. I probably have over 30 titles on airbrushing and I keep watching yours. Thanks for all your hard work." — "Bubba" Harmon, Harpers Ferry, West Virginia
"The videos are awesome!" — D. Danitz, Las Vegas
"It's all true!! I left my job at an insurance company and started painting with your help. The video teaching has been perfect. All I did was follow the rules and never have to redo a job. Perfect every time. Thanks Jimbo!!!" — Miguel Rivera-Vargas, Puerto Rico
"A truck load of info. Keep me on your hot-list!" — Ray Meckel, Pleasanton, Texas
"Thanks Jimbo… I love the videos!!!  The information is great and helps not to make mistakes while learning new things — which is how I used to learn.  Your library is the only ones out visible in my collection because I watch them over and over again. You make it and I'll buy it. I get better every time! Thanks again bro." — D. Smart, New York
"The courses I've gotten from you already have been great. The custom paint jobs I've done have turned out so good that people can't believe I just started doing this!" -- Steve Hildreth, Richardson, Texas.
"I've been using what I learned to do some paint jobs and all who have seen it said it looks very professional. Thanks!"
-- Arthur Casnellie, Grove Port, Ohio
Wowza! I've found this to be "The MOST" informative and well done set. Thanks for such good stuff. My wife and daughter have become more and more impressed with my Art/Antics in the Garage let alone the flow of $Franklin$ which keep showing up in their purses!"
— AC "Tony" Dettra, Tucson, Arizona
"I designed and built a bike -- then painted it using your videos. Awesome! I was taking art classes and felt like I was throwing money into a black hole! Your video's showed some neat stuff on painting tricks." -- M. Manuszak, St. Clair, Michigan
"Impressive… the tapes are great! Keep up the great work!" — R. Castillo, Grand Prairie, Texas
"Right after quitting my job, I ordered your videos. Your videos have helped me go into custom bike painting full time. I'm making some of the `big money' you mentioned and owe a big thanks to your videos. Keep the videos coming." -- B. Morris, Oklahoma City
"Excellent tapes! Keep the paint flowin!" — R. Dalesio, Norwalk, Connecticut
"I thoroughly enjoyed your videos and am getting ready to spray a flame job — the first time at 60 years old have I had the courage to tackle a project of this magnitude. Thank you!" -- C. Hawkins, Portsmith, New Hamshire
"I have all your videos and I think they're the best out there." — C. Huey, Twin Lakes, Minnesota
"Thank you very much for letting these `secrets' out of the bag. One guy kept telling me that I should get a `real' job, not this paint stuff.  Little did he know, that I was working about 20 hours total, (by choice), and still taking in about 3 times what this bozo was making at 40 plus hours per week.  He eventually figured it out when he saw I had more `toys' than he did. Your information videos are just the right ticket that I have been seeking for many years. Thanks again!" — T. McDaniel, Lake Havasu, Arizona
"I just wanted to take a moment to thank you. I have watched the tapes a few times and learn something every time. I am very much inspired.
"Please keep up the great work you are doing for us poor old beginners." — R. Huggy, Munsie, Indiana
"I know you said you'd would refund my money — but forget it ! You could offer me ten times that much and I would not part with this videoset!"-- D. Mayhall, Davenport, Oklahoma
"Top quality — just like everything else I have bought from you." -- E. McMayon, Spring, Texas
© OHP Direct. All-Right Reserved.
Privacy Policy